Watch our American Car TV shows for free, right here on this website!
You can stream them directly, and then contact us and tell us what you would like to see more of.
Back in the Day
A few years ago now Karl Baumann got a little drunk and went on Ebay, to buy a Classic American car!! This website is his story about the passion people have for classic American Cars. But ultimately this video series is his story of buying, importing, and then renovating his dream American car. Now He had skills as a producer of sports for a large media company in the UK. He then learned how to edit and created the American Car TV Show found on our video page. We hope you watch and love the cars, and the people we meet along the way.
Torque American
This site started a few years ago and was called TorqueAmerican.com. This was a great name for a TV show, but on the internet it could not be found because people had not heard of Torque American. This American Cars Club website was then made in it's place to hopefully drive traffic and increase the reach of these brilliant videos. It was a great deal of effort to make each series. And we hope you can see that they are very professional and really capture your attention. We allow you to dream about owning your own American Classic Car.
"American Car TV Shows is all about the passion different people have around the world for Classic American cars. The club is free and also found on YouTube if you search for Torque American. You can also watch on our video page to view each episode. Cars are driving & parking themselves nowadays but the people we have found in Sweden, Germany, the UK and beyond really appreciate American vehicles. With their amazing styling and buckets of soul. These cars are FAR from fuel efficient and they're simple compared to what's on the road today. But they are from a bygone era when fuel was cheap and being BIG was best. Through these vehicles the American Dream lives on – but it isn't ONLY in America as you will see!"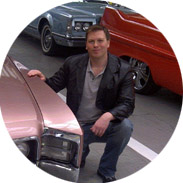 KARL BAUMANN
"THE DREAMER"
Karl went to UK car shows with his Dad as a child and TV shows like "Knight Rider", "The A Team" and his favourite "The Dukes of Hazzard" spawned a desire to hopefully own a classic American car.  In his previous role as a Producer with a well know Sports TV Network Karl got to visit the USA frequently. Experiencing American road culture just increased his passion for Muscle cars and 50s chromed monsters. Then, after being made redundant, Karl used most of his redundancy money to buy his dream car, a mark 2 Dodge Charger.  "I am an American, I was just born in the wrong country"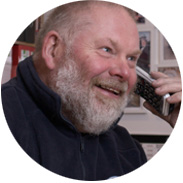 JOHN CASTLEMAN
"BIG JOHN"
John is well known on the UK Classic American scene.  John got into American cars in the late 70s and his facility is full of Classic American vehicles he has been entrusted to restore back to their former glory for friends and clients alike.  Undoubtedly one of the top restoration experts for American vehicles in Europe,  John has also spent 27 years restoring a 1970 Plymouth Superbird.  This rare and historic vehicle has garnered lots of interest in the UK & abroad and it's superior immaculate condition is testament to John's tenacity and skills.  A plain speaker, John sometimes has to keep dreamers like Karl in line and explain the correct pathway to renovating cars is expensive and LONG.
MIKE HOLYOAKE 
 "MAGIC MIKE"
Mike has always loved cars. His first American Classic is a 1957 ford Thunderbird he purchased from Mike Brewer on the popular Discovery show 'Wheeler Dealers'. Mike then bought a one of a kind 1972 Mustang, made right hand drive for the then head of Ford. But arguably his favourite EVER car is his black 1969 Dodge Charger. Mike and Karl and big friends and it's because Karl got envious of Mike's Charger that he wanted one so badly. Mike loves doing car cruises and shows all over the UK but was also in Sweden for Power Meet with Karl.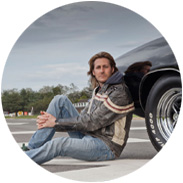 CHRISTIAN GAUNT
"WORKSHOP WIZARD"
Chris is another well renowned car restoration expert, he's based near Doncaster and he fell in love with Dodge Chargers through TV and films, just like Karl. The difference is, Chris has the skillset to indulge his passion. Chris paid "strong" money for his 1968 Charger, which was formerly owned by a celebrity, it was in good condition but after a few years he decided to strip it down and do a ground up restoration and return it to it's original colour, blue. Now Chris is aiding other USA car owners who come from far & wide and who sometimes wait months for Chris to fix their pride and joy. A family man, Chris is imparting his love of cars (and in particular American cars) to his son, just like his father did with him.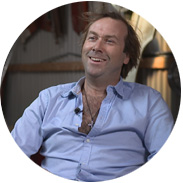 JAMES CALLIGAN
"CADILLAC MAN"
James is a renovation hero! He purchased his first dilapidated Cadillac when he was only 14, after discovering a passion for fish tails and chrome while watching the film "Christine". Over the years James has restored and cleaned up a multitude of Caddys, often putting into them far more money than he got back when he sold them on. Based near Hull in the UK, James has had to go to extreme lengths to find and retrieve parts, as well as strive hard to keep costs manageable. One of his favourite sayings is "…it's only original once" as James much prefers to correct and repair rusted bodywork than get new panels, which often aren't made anymore anyway!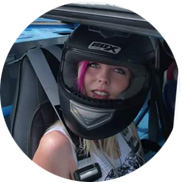 LOLA CAVEY
Lola gets her passion for American vehicles from her father. But as John Castleman has said "Lola knows far more about cars than most men". Lola loves her rabbits but she has a small collection of vehicles including 1 USA car, a 1972 Chevy Nova she recently imported from America. Lola also helps out as "pit crew" for Don Scott's Superbird and is so into cars she has a tattoo of that Superbird on her arm. Top girl !!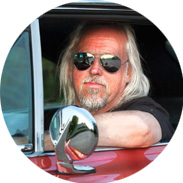 DEREK CARTER 
Derek is a fabulous fella who almost turned away from owning American Cars when he was attacked outside a kebab shop and then months later had his garage and American car set alight. But with great support from the USA Car owners all over Britain, he found the strength to keep a hold of his pride and joy, an award winning 1968 Dodge Charger which was restored after the fire. A senior figure in the Mopar Muscle Association AND the UK scene, he has strived to help others with their cars on many an occasion.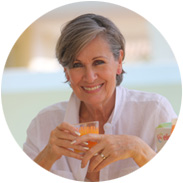 TESSA HOOD
Tessa has been a model and actress for decades but she was introduced to piston heads at a young age when she lived in a pub near the Goodwood racetrack. In her formative years she saw Sir Stirling Moss, Phil Hill and some of the biggest names in motorsport in her parent's hostelry. Tessa has a big passion for cars. She really enjoys days out in the AC Cobra that she and husband John have but they each found it limiting in a few areas. So for Christmas 2016 Tessa bought John a 1967 Mustang GT convertible, which has been upgraded since it's importation from Texas. They both really enjoy driving such an American icon. This Mustang has overdrive and a long range fuel tank so road trips to stunning areas of France, like Provence, are now easier.
This is the dream American Muscle Car that so many people want to own. Watch our video series as Karl Baumann buys a wreck and spends 3 years restoring the vehicle.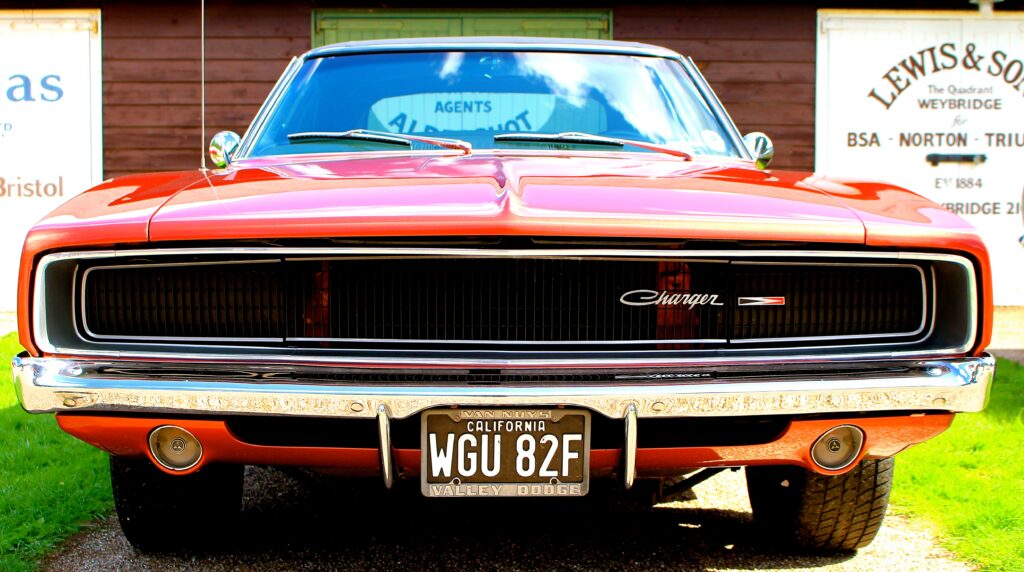 Please contact us and let us know what you want to see more of. The finished vehicle will be complete hopefully by Easter 2023